Servicing the Greater Kansas City area including Shawnee Leawood and Mission Hills, KS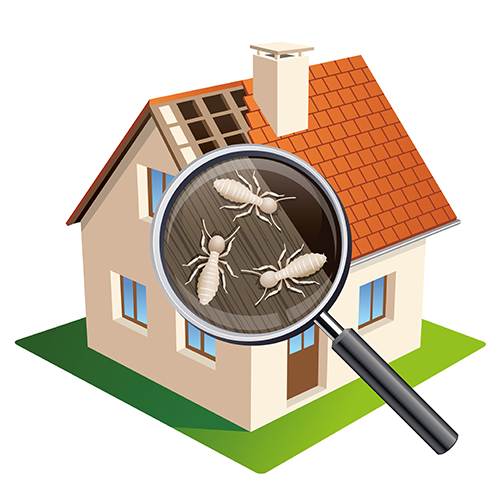 Buying a home or new building can come with all kinds of surprises – an inspection can save you a lot of time, trouble, and money by helping you to find out ahead of time what is happening in, under, and around your potential new property. 
One of the worst surprises can be moving into your new home or building only to find that insects moved in before you and have done some extensive damage to important structural components. Avoid surprises by asking ACM Home Inspection to perform a termite inspection. Christian Amend and his team are well recognized throughout the Shawnee, Leawood, and Mission Woods, KS areas for their integrity, honesty, dedication to hard work, and attention to detail.
The wood-destroying insect inspection can be added to any inspection service for $90, or it can be performed as a standalone service for $150. Call (913) 353-6869 today to schedule your home and pest inspection! 
Perhaps the most destructive pests are wood-destroying insects, which can cause a lot of damage to your home and belongings, as well as costing you time and money. Here are just a few examples of common insects in the johnson county area that an inspection can reveal.
A wood-destroying insect inspection from ACM Home Inspection will check for: 
Termites
Termites can damage the structure of your home, the areas around doors and windows, and even your furniture – anything that is made out of wood. They may start by damaging the foundation, then move on to the walls, door frames, and wood in the attic. It can be difficult, if not impossible, to see the destruction termites are causing until it is too late and serious (and expensive) damage is done. That's why it is so important to do something about termites at the first sign they are around. 
Beetles 
Wood-boring beetles are a close second to termites when it comes to the amount of damage they can do. They damage the wood that forms the structure of the house, and they will also feed on decorative wood within the house. You may have a beetle problem if you see sawdust or a round "exit hole" that they have created. You might even hear them chewing on wood!
Carpenter Ants
Carpenter ants will also infest your home and dig into wood to build their nests. You may have a carpenter ant problem if you notice ants crawling in and out of holes or crevices and piles of wood shavings underneath an "exit hole" they have excavated in wood. You might also hear them rustling around in your walls. 
Carpenter Bees
Carpenter bees are yet another kind of insect that can damage wood by constructing tunnels to live and lay their eggs in. They like to set up their nests in roof eaves, windowsills, railings, decks, and even wooden yard furniture. This activity weakens the wood and can cause structural damage to your home and ruin your belongings. 
Why hire ACM Home Inspection?
ACM Home Inspection performs insect inspections for both commercial and residential structures for customers who are buying, selling, or refinancing. After the inspection, the customer will receive a thorough, detailed report on what insects were found and what damage they have caused, along with recommendations for dealing with problem areas. It is important to make an insect inspection part of the overall inspection because if pest issues are found, you can treat the property and prevent further damage to the structure. 
Christian Amend, the owner of ACM Home Inspection, is a certified pest inspector and can identify wood-destroying insects that can damage the property. After the inspection, he will provide an NPMA-33 form, something that may be required by the financer. Typically, NPMA-33 forms are required on VA and FHA loans. This form outlines which (if any) wood-boring insects have been found and a list of the damage they have caused along with recommendations for treatment and repair.
If you are buying a new house or commercial property, book your ACM Home Inspection online – a wood-destroying insect termite inspection will be completed during your basic inspection and provide the added details required to mitigate and repair damage caused by these destructive insects. Or, if you are about to sell your home, an insect inspection from ACM Home Inspection means you can put your home on the market knowing that it is free of pests and ready for the new owner. Book online or call (913) 353-6869 to schedule your Kansas City-area wood-destroying insect inspection today before the bugs take your building away! 
A pest report will be provided with recommendations to cure any problem areas. Here is a sample report.
The state of Kansas requires a commercial pesticide applicator certification in wood-destroying insect control. View ACM Home Inspection's certification here.
Call us today to schedule your Kansas City-area insect inspection! Call (913) 353-6869 today.